Diversity and Inclusion Educational Aids
The Society for Education in Anesthesia Diversity and Inclusion Committee is compiling and disseminating educational aids on Diversity and Inclusion on a monthly basis.
---
August 2022: Just Be Yourself
Submitted by: Darryl Brown, MD, Mount Sinai Morningside and West Hospital, New York City, NY
You've probably heard this advice: Just be yourself at work. Showing up as your authentic self plays an essential part in building meaningful relationships which is critical in any profession however especially so for those in medicine. Social scientist, Bréne Brown states that: "… belonging only happens when we present our authentic, imperfect selves to the world, our sense of belonging can never be greater than our level of self-acceptance." While the idea of showing up as your authentic self at work largely comes with good intention, it can lead to unintended consequences.

In a well-articulated TED Talk, writer Jodi-Ann Burey explains how authenticity is a dynamic power of those in the majority. She discusses how feeling comfortable enough to show up as your authentic self is a privilege not afforded everyone. This writer brings awareness to the struggles that members of minority groups face when bringing their authentic selves to professional settings. Too often workplace culture fails to support true authenticity of those from minority groups which has the potential to lead to fewer opportunities for growth and may even lead to backlash.

Jodi-Ann Burey wraps up the Ted Talk with steps to achieve equity in the workplace by challenging those in leadership positions to promote change.

https://www.ted.com/talks/jodi_ann_burey_the_myth_of_bringing_your_full_authentic_self_to_work
Brené Brown (2012). "Daring Greatly: How the Courage to Be Vulnerable Transforms the Way We Live, Love, Parent, and Lead", p.122, Penguin
---
July 2022: Juneteenth: A day to learn, understand, and to celebrate!
Submitted by: M. Angele Theard, MD, University of Washington, Seattle, WA
In January 1863, the Emancipation Proclamation officially marked the end of the Civil War and the legalization of the enslavement of human beings. However, structural racism ensured the continued official enslavement of African Americans for 2.5 more years until June 19th, 1865 when General Gordon Granger came to Galveston Texas to share Abraham Lincoln's Proclamation. R44865.pdf (fas.org)

Despite this proclamation, the official end of this American institution has been fraught with countless hardships endured by African Americans in the US from Jim Crow to the Civil Rights Movement and beyond. In1979, the state of Texas was the first state to declare this day a national holiday and many states followed. On June 17, 2021, Juneteenth day (short for June nineteenth) also known as Emancipation Day, Freedom Day, Jubilee Day, Juneteenth Independence Day, and Black Independence Day became a federal holiday. This is a day to learn, understand, and celebrate!
In 2009, Harvard Professor and Pulitzer Prize winner for history, Annette Gordon-Reed published On Juneteenth, a memoir in which she shares with us her life growing up in a segregated Texas, and the long onerous history of the road from enslavement to freedom in Texas and the United States. https://sgp.fas.org/crs/misc/R44865.pdf. The link below is one of many interviews of Dr. Gordon-Reed discussing her book. Historian Annette Gordon-Reed on the Meaning of Juneteenth | Amanpour and Company - Bing video
June 2022: Celebrating Pride 
Submitted by: Tomás A. Lazo, MD, Oregon Health & Science University, Portland, OR
June is an exciting month for a variety of reasons. It is the start of summer, the academic year is coming to an end with graduation right around the corner, and it is time to celebrate Pride month. You will likely start seeing many companies temporarily rebranding their logos to show their commitment to the LGBTQ+ community, though be aware that this can be a performative demonstration if you look closely enough. Despite being centered around what most folks think of when they hear about allyship, people within the LGBTQ+ community are still marginalized and face discrimination for being themselves. While gay marriage was legalized in 2015, there is still a lot of work to be done to achieve social justice in this sphere.
Healthcare disparities are still ever prevalent in this community. Data points to higher rates of mental health challenges, such as anxiety, depression, and suicidal ideation. LGBTQ youth are much more likely to commit suicide than their peers, which is further amplified for trans youth. LGBTQ+ patients are not as likely to talk to their medical providers about health matters for fear of discrimination and uncertainty. Many states still do not protect against workplace discrimination. The list goes on and on.
So, what can we do as healthcare workers? What can we do as friends, colleagues, peers, ALLIES? Education is a fantastic place to start. Inform yourself of the history of gay and queer rights in the United States and what members of this community have faced. Here is a short video with a brief history: https://www.youtube.com/watch?v=wkzwDOCEDCo In addition to arming yourself with historical knowledge, inform yourself of the variety of terms that sit within the umbrella of LGBTQ+ here: https://www.aecf.org/blog/lgbtq-definitions Finally, we can make sure we are being kind and culturally humble when we interact with members of this community and find ways to be an active supporter, either through advocacy, donations, and/or bettering yourself to care for these individuals.
As we celebrate the beauty within the rainbow this month, think about how we might strive to make the world a better place for our LGBTQ+ community. I leave you with this short, animated Pixar film which will hopefully bring a smile to your face. https://youtu.be/OkLZN0ziLuI
Happy Pride 2022, everyone!
---
May 2022: DR. AUDREY SMEDLEY HELPS US TO UNDERSTAND RACE IN AMERICA
Submitted by: M. Angele Theard, MD, Oregon Health & Sciences University Portland, Oregon
As we continue to take time to understand one another and our experiences, it is important to understand the role that race has played in our society. Dr. Audrey Smedley who taught at Virginia Commonwealth University was best known for her scholarship on the history of Race in America. She was one of our nation's first women anthropologists after earning her PhD in Anthropology at Victoria University of Manchester England after completing her BA in History and master's in Social Anthropology at the University of Michigan. In 2020, Dr. Smedley; mother, researcher, and educators left behind a legacy of work elucidating the social construct – Race. Dr. Smedley explains in an interview in 2003:

"Race is an ideology that says that all human populations are divided into exclusive and distinct groups; that all human populations are ranked, they are not equal. Inequality is absolutely essential to the idea of race…. Race represents attitudes and beliefs about human differences."1
Below is a link to an article by Dr. Smedley and her son Brian Smedley on this topic: Race as
Biology Is Fiction, Racism as a Social Problem Is Real: Anthropological and Historical Perspective on the Social Construction of Race. The 2nd link below is a you tube video which does a nice job summarizing a review of this historical construct.
https://www.researchgate.net/publication/8089265_Race_as_Biology_Is_Fiction_Racism_as_a_Social_Problem_Is_Real_Anthropological_and_Historical_Perspectives_on_The_Social_Construction_of_Race
https://www.youtube.com/watch?v=VnfKgffCZ7U&t=56s
References:
1. https://www.pbs.org/race/000_About/002_04-background-02-06.htm
---
Submitted by: M. Angele Theard, MD, Oregon Health & Sciences University Portland, Oregon
According to the American Psychological Association, cultural competence is defined as: the ability to understand, appreciate, and interact with people from cultures or belief systems different from one's own. 1 According to a review conducted by authors S. Saha, C Beech, and L. Cooper, the cultural competency movement is discussed in health care beginning in the 1990's. It was proposed as a way of bridging the divide between the White American cultural perspective of clinicians and the perspectives of mainly immigrant patients with different languages and experiences. Today cultural competency has evolved into a more all-compassing approach that attempts to address sources of racial and ethnic disparities in health care.  Cultural competence is an important aspect of positive physician/patient relationships essential for optimizing patient care. The Kentucky Inclusive Health Collaborative has focused their efforts on providing high quality care through attention to health literacy and cultural competency.
Click on the link below to view a video created by this collaborative and hear insights on the topics of cultural competence from a diverse group of people who could represent some of our patients. 
https://www.youtube.com/watch?v=vHePY3J5wJs
References
Saha S, Beach C, Cooper L. Patient Centeredness, Cultural Competence and Healthcare Quality. Journal of the National Medical Assoc. 2008;100(11):1275-1285.
---
March 2022: Revealing the Bias Within: Addressing Implicit Biaas in the Peri-operative Workplace
Submitted by: Bryan Mahoney, MD, FASA, Mount Sinai West and Mount Sinai Morningside Hospitals, Icahn School of Medicine at Mount Sinai, New York, NY
The Department of Anesthesiology at the Mount Sinai Morningside and West Department of Anesthesiology utilized a simulation-based model based on anecdotes provided by anesthesiology trainees nationwide to create bystander training in instances of implicit bias observed in the workplace.
---
FEBRUARY 2022: BLACK

HISTORY

MONTH

- ITS BEGINNING AND ITS MEANING
Submitted by: Tracey Straker, MD, MS, MPH, CBA, FASA, Montefiore Medical Center, Bronx, NY
Black History Month is a yearly celebration and acknowledgement of the successes of African Americans. Dr. Carter G Woodson along with Minister Jesse Moorland founded the Association for the Study of Negro Life and History (ASNLH), today's ASLAH (Association of African American Life and History), an organization focused on promoting the achievements of African Americans and people of African descent. This organization sponsored Negro History Week in 1926, choosing the second week of February to coincide with the birthdays of Abraham Lincoln and Frederick Douglass. By the 1960s, fueled by the Civil Rights Movement, Negro History Week evolved into Black History Month. In 1976, President Gerald Ford officially recognized Black History Month stating to the public "seize the opportunity to honor the too often neglected accomplishments of Black Americans in every area of endeavor throughout our history".
A major part of Black culture is music. Much of America's music – Jazz, Rock, Country, R&B, and Funk - has as its origin, the blues inspired by the experiences of African Americans. Below is a link to a Black History Month playlist of music that shares aspects of the story of a people and their culture. These artists, through music, speak to protest, resilience, and pride as strengths in our communities.
https://www.bestcolleges.com/blog/black-history-month-playlist/
REFERENCES
www.history.com
https://www.history.com/topics/black-history/black-history-month
---
JANUARY 2022: 

RE-DIRECTING ANGER: LESSONS FROM DR. MARTIN LUTHER KING JR
Submitted by: Tomás A. Lazo, MD, Oregon Health & Science University, Portland, OR
I have always been a fan of the NPR Podcast "Code Switch," as it examines the challenging and ever-evolving relationship between race and society. Since January is host to Martin Luther King Day, I thought this 5-minute listen and portrayal of a specific human aspect of this historical figure may be a great means of providing some much-needed self-reflection regarding anger. While anger is a normal human emotion, we are all too familiar with its destructive impact and potential for harm. However, the Reverend Dr. Martin Luther King Jr was able to harness this raw emotion and put his energy into something more constructive. We may find ourselves becoming angrier and more emotionally charged as of late. The pandemic has been with us for almost two years now. In addition, the reality of systemic racism continues to be ever-present, despite efforts to address it. As a consequence, I myself am overwhelmingly challenged to cope with new and unanticipated stressors. However, if we take the time to provide ourselves some well-warranted grace, perhaps we can use our own anger and frustration as a means of coming to a better understanding of who we are as an individual. In addition, I would argue that the evaluation of that fear, stress, and irritation that we experience can help with clarifying and analyzing the differences that exist between us and provide a better understanding of external perspectives. At the end of the day, we are all human beings, capable of great accomplishments, and also very capable of making mistakes. Instead of focusing on what separates us, let us celebrate our similarities.
https://www.npr.org/sections/codeswitch/2019/02/20/691298594/the-power-of-martin-luther-king-jr-s-anger
---
DECEMBER 2021: KWANZAA, A CELEBRATION OF FAMILY, COMMUNITY, AND CULTURE
Submitted by: Tracey Straker, MD, MS, MPH, CBA, FASA, Montefiore Medical Center ,Bronx ,NY
Kwanzaa is an African-American holiday that can be celebrated by anyone. Kwanzaa is a time to celebrate family, community, and culture. This annual celebration of African American culture lasts 7 days (from December 26 to January 1) with a communal feast, Karamu usually held on the 6th day followed by reflection on the 7th day.  This holiday created by Dr. Maulana Karenga, Professor of Africana Studies at California State University and author of Kwanzaa, a Celebration of Family, Community and Culture is based on African harvest festival traditions. Kwanzaa was first celebrated in 1966.  Dr. Karenga borrowed the word kwanza, meaning "first," from the Swahili phrase matunda ya kwanza, adding the seventh letter, an extra a, to make the word long enough to accommodate one letter for each of the seven children present at an early celebration. 
Each of the days of the celebration is dedicated to one of the seven principles of Kwanzaa represented by the 7 candles: 
Unity (umoja)  - black candle (people)
Self-determination (kujichagulia)  - red candle (struggle)
Collective responsibility (ujima)  - green candle (the future)
Cooperative economics (ujamaa) - red
Purpose (nia) - green
Creativity (kuumba)  - red 
Faith (imani) - green
There also are seven symbols of the celebration
Fruits(mazao)
Vegetables and nuts 
Straw mat (mkeka)
Candleholder
Ears of corn (muhindi)
Gifts (Zawadi)
Communal cup signifying unity
Seven candles symbolizing the seven principles of Kwanzaa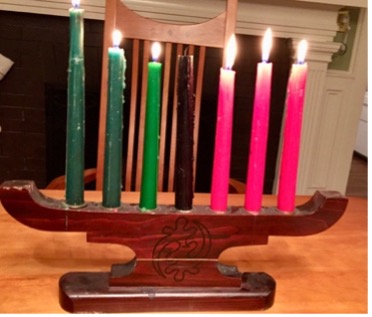 On each day the family comes together to light one of the colored candles in the kinara, or candleholder (each principle is represented by a candle) starting with umoja; discuss the meaning of each day of Kwanzaa; and plan an activity that illustrates the principle for that day. The remaining candles are lit in alternating manner from left to right starting with the red candle (the struggle) for Kujichagulia followed by the green candle (the future and hope that comes from the struggle) for Ujima and so on.  On December 31, families join in a feast called the karamu followed by a day of reflection on January 1.
References
https://www.britannica.com/topic/Kwanzaa
https://www.interexchange.org/articles/career-training-usa/history-principles-and-symbols-of-kwanzaa/
https://www.officialkwanzaawebsite.org/the-celebration.html
---
NOVEMBER 2021: WHAT DOES DEI IN RESEARCH MEAN? ANGEL MENDEZ, UNIVERSITY OF MINNESOTA

Submitted by: Isabel Pesola, MD, Assistant Professor, Albert Einstein College of Medicine/Montefiore Medical Center
The NIH recently launched the UNITE Initiative to "end structural racism and racial inequities in the health research enterprise" in March, 2021.  So, with new funding, what does Research for DEI mean? Most academic institutions have a lot of work to do in prioritizing and integrating DEI in their research efforts. In the University of Minnesota, 3 faculty members share critical advice to guide us along the path:
Dr. Brooke Cunningham, MD, PhD. "Use an 'Equity' Lens First" As D, E and I are both overlapping and independent concepts 
Dr. Jordan Lewis, PhD "Include the Individual Community's Values Strengths and Priorities" as engaging the different communities helps understand their needs and the culturally sound interventions to positive impact their health 
Dr. Anita Randolph, PhD, "Build a Diverse Team" To increase diversity and engagement in laboratories, institutions and STEAM (Science-Technology-Engineering-Arts-Mathematics) workforce in general  
https://med.umn.edu/news-events/what-does-dei-research-look
You can read more about this plan and keep up with what the NIH is doing to address workforce diversity on the NIH UNITE website
---
OCTOBER 2021: THE INTERNATIONAL DAY OF THE GIRL
Submitted by:Jennifer Lau, MD, Clinical Associate Professor and Director, Pediatric Anesthesiology Fellowship at Keck School of Medicine USC.
Coming on the heels of September, which is Women in Medicine Month, comes the International Day of the Girl. Initiated by the United Nations October 11, 2012 to bring attention to the challenges that girls and women face and to promote their human rights and empowerment.
Today girls and women still face many challenges of gender discrimination and inequities. A recent documentary "Picture A Scientist" shines a light on the ugly treatment still endured by women in STEM.
 We are hopeful that bringing awareness to the continued trials of women today that we can make the changes necessary to pave a brighter future for our girls tomorrow. What will you do to be a part of the change? Can you promote her? Mentor her? Sponsor her? Value her?
"Picture a Scientist" is currently available on Netflix and for purchase on most streaming platforms.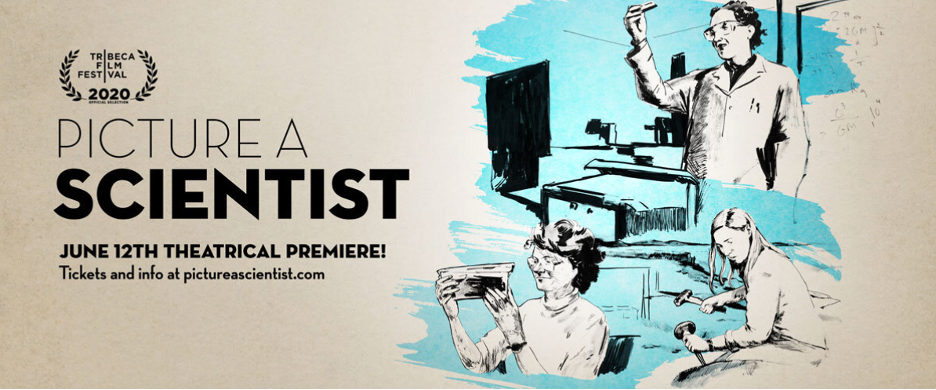 ---
SEPTEMBER 2021: GENDER-NONCONFORMING CHILDREN
Submitted by: Herodotos Ellinas, MD, MHPE (Professor, Division Pediatric Anesthesiology, Medical College of Wisconsin)
August 10, 2021, NYT. Interactive article about a camp and gender-nonconforming children.
This extraordinary camp organized by a mom about 14 years ago (ended in 2018) allowed children to be who they are rather than forcing them to pretend. It provided a supportive environment for any child with gender nonconformity to be free from societal "norms."
The Kids of Camp I Am, a Decade Later
https://urldefense.com/v3/__https:/www.nytimes.com/interactive/2021/08/10/magazine/camp-i-am.html?searchResultPosition=4__;!!H8mHWRdzp34!u-iuWZ6n-3i6HFdePXDpUwf8uSuG0yaSTg09wgNrGt6ugnpqxYcW3OwSoCgY5wg$
---
AUGUST 2021: WOMEN'S EQUALITY DAY
Submitted by: Herodotos Ellinas, MD, MHPE (Professor, Division Pediatric Anesthesiology, Medical College of Wisconsin)
Did you know that Women's Equality Day is celebrated on August 26th annually? Although it was ratified on August 18th, 1920, the 19th amendment that gave women the right to vote nationally was officially certified by US Secretary of State Bainbridge Colby on August 26, 1920, hence the observed day.
I wish I could honor all the great women who paved the path to a better world, a braver one. I wouldn't know where to start; there are so many, most of them unmentioned. I will though invite you to browse through the Harvard Business Review article that interviews retired supreme court justice Sandra Day O'Connor. Did you know that Women's Equality Day is celebrated on August 26th annually? Although it was ratified on August 18th, 1920, the 19th amendment that gave women the right to vote nationally was officially certified by US Secretary of State Bainbridge Colby on August 26, 1920, hence the observed day. I wish I could honor all the great women who paved the path to a better world, a braver one. I wouldn't know where to start; there are so many, most of them unmentioned. I will though invite you to browse through the Harvard Business Review article that interviews retired supreme court justice Sandra Day O'Connor.
https://hbr.org/2013/12/sandra-day-oconnor
A few highlights about her life:
Graduated from Stanford Law, 1952; difficulty finding a job because most firms were hiring men
First woman majority leader of a US State Senate (AZ)
First woman on the US Supreme Court (1981-2006)
Presidential Medal of Freedom, 2009
Founded iCivics, 2009, a non-profit organization to transform civic education for every US student
After she was appointed to the US Supreme Court in 1981, she famously said: "I think the important thing about my appointment is not that I will decide cases as a woman, but that I am a woman who will get to decide cases."
---
JULY 2021: LGBTQ
Submitted by: Tracey Straker, MD, MS, MPH, CBA, FASA (Professor Anesthesiology, Montefiore Medical Center)
LGBTQ – a common acronym that most people are now familiar with. Most of us know what each letter stands for, but what does LGBTQ really mean? Do you know the meaning of each word? Are you familiar with the many other words not represented in this acronym? As physicians giving healthcare to many individuals, it is important to understand the differences between these individuals, physically and psychologically. If we are to care for our patients with utmost respect for their choices, then we must educate ourselves on choices available in the LGBTQ diaspora. Click on the link below to gain a fundamental understanding of our patients who have chosen an LGBTQ lifestyle.
https://www.aecf.org/blog/lgbtq-definitions
---
JUNE 2021: ASIAN AMERICANS AND PACIFIC ISLANDERS (AAPI) MYTHS DEBUNKED
Submitted by: Isabel Pesola MD, Assistant Professor Albert Einstein College of Medicine, Montefiore Medical Center
There are several myths regarding Asian Americans and Pacific Islanders (AAPI) that need to be debunked. The following article, part of a special National Public Radio (NPR) series, to commemorate the Asian American and Pacific Islander Heritage Month, dismantles the trope of Asian Americans as the" Model Minority".
Asían Americans are not a monolithic group. They trace their origins to different regions of the world, from Southeast Asia to the Pacific Islands. People of Asian American heritage have a huge variety of ethnicities and cultural characteristics. Not all Asian Americans are wealthy and highly educated. The notion of the "Model Minority "ignores the large differences amongst different groups of Asian Americans regarding income and education level.
Some Asian Americans arrive in the United States as asylum seekers or refugees. Thirty two percent of Asian Americans fear being attacked. There is underrepresentation in positions of power and leadership.
Despite the issues facing Asian Americans, they continue to have the highest voter turnout for presidential elections and are running for state legislatures.
https://www.npr.org/2021/05/25/999874296/6-charts-that-dismantle-the-trope-of-asian-americans-as-a-model-minority
---
MAY 2021: REVEALING THE BIAS FROM WITHIN
Submitted by: Bryan Mahoney, M.D., Residency Program Director and Vice Chair of Education and Olga Paniagua, M.D. PGY-3 Resident, Department of Anesthesiology, Perioperative and Pain Medicine; Mount Sinai West and Mount Sinai Morningside Hospitals
A review of an ASA mentorship grant-funded project designed to create and educational module on the impact of implicit bias on anesthesiologists and trainees highlighting the first-person experience of these incidents.
---
APRIL 2021: DO YOU SEE ME? CAN YOU SEE PAST MY SKIN COLOR?
Submitted by: Herodotos Ellinas, MD, MHPE
This fictional letter in the Harvard Business Review from a Black manager to a white boss is a must read for all. "I am an executive, but I feel alienated. " I am in the C-suite, yet I am seen as "the authority on diversity and race issues " and not for my executive experience. I cannot change my skin color. "I choose to stay. " Let's start the COLOR brave conversations.
---
MARCH 2021: RECOGNIZING LUCY, BETSEY, AND ANARCHA
Submitted by: Nwadiogo Ejiogu, MD, MA - Icahn School of Medicine - Pronouns: she/her or they/them
On February 28 and March 1st 2021, for the first time the American College of Obstetricians and Gynecologists (ACOG) along with several other national obstetric and gynecology (OB/GYN) societies will formally recognize the contributions of three enslaved Black women, Anarcha, Lucy, and Betsey. Anarcha, Lucy, Betsey and many other unnamed enslaved Black women were brutally experimented on without anesthesia by Dr. James Marion Sims in the mid-1800s. The coerced gynecologic surgeries performed on these women, along with their reproductive and intellectual labor, were integral to the development of obstetrics and gynecology. The details of their lives and the abuse they survived at the hands of Dr. Sims is detailed in the book, Medical Bondage: Race, Gender, and the Origins of American Gynecology by Dr. Deidre Cooper Owens.
This inaugural day of recognition was primarily a result of the work of Dr. Veronica Pimentel, a maternal-fetal medicine specialist. Her work also provided the impetus for the ACOG joint statement on Collective Action Addressing Racism, a statement which proposes 7 steps to address structural racism. While there were no anesthesiology societies listed in this joint statement or on the statement for the inaugural day of recognition, it is important to understand that our profession is inextricably linked to the troubling origins of the field of OB/GYN. I encourage everyone to honor the lives of Anarcha, Lucy, and Betsey by learning about structural racism and how it impacts health outcomes while working to actively address health care inequities in the perioperative environment and beyond.
Resources:
---
FEBRUARY 2021: MENTORING – DO NOT TAKE IT LIGHTLY!
Submitted by: Tomás Lazo, MD
The role of mentoring is a common theme that is engrained in education. A mentor can mean the difference between encouragement or giving up. Please take a few minutes to listen to Tomas Lazo MD, SEA DEI Taskforce member, discuss the importance of having a mentor who looked like him as he was challenged in school.
---
JANUARY 2021: HIS DREAM, OUR DREAM
Submitted by: Tomás Lazo, MD
As we enter the month of Martin Luther King's birthday, we acknowledge a man – a man who was not perfect, who had flaws and made mistakes. We also acknowledge a man who was able to transcend his human inadequacies and leave behind a legacy that has lived beyond him. As so many of us strive to see his dream manifest in our lifetime, I ask that you take 2 minutes and 40 seconds to listen and reflect on the words of his dream. What can we do to make his dream our dream? How can we in our own way make an impact?
---
DECEMBER 2020: "SELMA"- EQUAL VOTING RIGHTS
Submitted by: Odinakachukwu Ehie, MD
This music video is a moving rendition of a song which pays tribute to the 2014 film named Selma, which chronicles Dr. Martin Luther King, Jr.'s campaign to secure equal voting rights via an epic march from Selma to Montgomery, Alabama in 1965. Dr. King is played by David Oyelowo, and Oprah Winfrey plays Annie Lee Cooper who was an African American civil rights activist in the 1965 Selma Voting Rights Movement. This is a powerful message for everyone to continue the fight for equal voting rights and to strive for equity and justice within our society. As John Lewis says, "Never, ever be afraid to make some noise and get in good trouble, necessary trouble. "
---
NOVEMBER 2020: IS OUR TONE TOO INSECURE OR ARE WE TOO BOSSY? WHY FEMALE VOICES ARE NOT HEARD IN THE OR
Submitted by: Isabel Pesola, MD
This month we explore a reflection by Dr. Edward Riley, from the California Society of Anesthesiologists. Thank you, Dr. Riley, for such an honestly written piece. https://csahq.org/news/blog/detail/csa-online-first/2020/10/20/voices-in-the-or-a-self-reflection-and-examination-of-unconscious-bias
Dr. Riley's insights echo those of mine, and perhaps many female colleagues who like me, have been searching for the right tone to speak, or to be heard in the OR- particularly in emergent situations.
Are we commanding with enough authority, or are we too bossy? Are we perceived as natural leaders? Do we need to speak louder? Or do we look too young?
Dr. Riley's piece invites the reader to evaluate their own bias. As he states, "we can only change our biases if we first name them, own them, and face the reality of how our prejudices affect our interaction with the world".
---
OCTOBER 2020: ALLEGORIES ON RACE AND RACISM
Submitted by: Josephine Hernandez, MD
In early June there were peaceful demonstrations decrying the murder of George Floyd and many other Black Americans. There were conversations throughout the hospital about institutional racism, health care disparities laid bare by CV-19 and the rise of white supremacy.
I noticed that there were residents that simply didn't understand the depth of problem—residents from other countries. How could I have them begin to understand, so they can take part in the conversation?
A colleague, Dr. Sharma Joseph suggested Dr. Camara Jones' Ted Talk and a brief history of the U.S. My residents and I found Dr. Jones talk non-threatening and really clarified how institutional racism grows and develops roots. My residents had a rich discussion and my residents of color opened up and told them of their experiences. The Ted Talk helped us develop a deeper understanding and created deeper bonds between my residents. 
---
SEPTEMBER 2020: REFLECTION: STANDING TOGETHER FOR A BETTER TOMORROW
Submitted by: By Jennifer Lau, MD
I recently read Dr. Kali Cyrus' vulnerable account "Why I gave up my dream of leading diversity efforts in medicine" describing the overwhelming demands and isolation that she experienced while trying to champion diversity and I could not help but think of how common her story is. While reading this article, I reflected on the frustrations of two colleagues who felt unsupported in their effort to advance diversity and inclusion initiatives at the hospital and medical school level. It is heartbreaking that we, as a healthcare community, continue to fail to support so many talented and driven people.
To achieve sustainable, transformative change we must go beyond verbal support. Diversity, equity, and inclusion (DEI) has for too long been an institutional check box without deep thought into what that entails. Are we really surprised that studies today still confirm racial bias in patient care or that we still have significant disparities in the make-up of our workforce? The data is clear: there are severe racial and gender incongruities amongst US physicians today affecting patient care. We must strive for better.
To fix this problem we need to do more than just kneel on Instagram or put a #BLM sign in our yards. We need to
Use our privilege and influence to ally with our under-represented colleagues
Let our under-represented colleagues know that we will stand by them and sponsor their efforts; they are not alone.
Persuade hospital leadership to prioritize DEI and invest in sustainable education and personnel to create the necessary changes.
Demand that hospital and medical school leadership invest in DEI champions by providing them with non-clinical time, administrative support, and the authority to hold hospitals accountable.
The lack of diversity in our workforce and the unsupported environments in our institutions are a national crisis and should be treated as such. This is the moment that we must stand together. For the sake of our patients and our colleagues, we cannot fail.
References
https://www.aamc.org/news-insights/why-i-gave-my-dream-leading-diversity-efforts-medicine
---
AUGUST 2020: LOVE AND INCLUSIVITY
Submitted by: Herodotos Ellinas, MD, MHPE
This 6 min short video by Matthew Richardson set to the music of Leonard Cohen's Hallelujah is about kindness, love and support for each other. It is about caring regardless of differences in our beliefs. 
---
JULY 2020: WHAT IS MICROAGGRESSION AND WHY DOES IT MATTER - A SHORT VIDEO
Submitted by: Tracey Straker, MD, MS, MPH, CBA, FASA
For July, this educational aid, a short video, comes from National Public Radio (NPR), and is recommended by the Diversity and Inclusion Task Force because it gives the definition of microaggressions in a simplified manner, explains the feelings of unease that they may cause, and gives possible solutions to the problem.
---
July 2020: What is Microaggression and Why Does it Matter - A Short Video
Submitted by: Tracey Straker, MD, MS, MPH, CBA, FASA
For July, this educational aid, a short video, comes from National Public Radio (NPR), and is recommended by the Diversity and Inclusion Task Force because it gives the definition of microaggressions in a simplified manner, explains the feelings of unease that they may cause, and gives possible solutions to the problem.