McLeskey Lecturers
The McLeskey lectureship is an honor bestowed upon individuals who have demonstrated substantial contributions to medical education and leadership. Each year, the selected McLeskey lecturer presents at the SEA Fall Meeting. This annual endowed lectureship was founded by Charles H. McLeskey, M.D.
Click here to donate to the McLeskey Lectureship.
---
History of the McLeskey Lectureship
Charles H. McLeskey, M.D.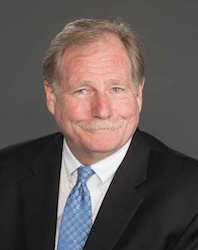 Some years ago, I was fortunate to be awarded the SEA/Duke Prize for Education. At the time, SEA was a much smaller organization than it is today and its finances were a little shaky. Rather than squandering the proceeds of the prize, I thought it might be nice to initially double the size of the grant and return it to SEA to start a fund, which would cover the expenses and honorarium associated with a lecture to be held annually. By so doing, I hoped this would enable the organization to bring in outside presenters to enrich the annual meeting, while at the same time relieve the organization of part of the expense of running its annual meetings, which at the time were typically run in the red. Over the years, SEA has evolved into a robust society which is now on firm financial footing. At the same time, the size of the lectureship fund has continued to grow with the goal that one day it will eventually reach a size where it will be self sustaining and fund the annual lecture into perpetuity. Although SEA no longer depends on the financial contribution of a funded lectureship, it is an honor for me to be permitted the opportunity to continue to support a lectureship for an organization which through the years has given to me far more than I could ever hope to return.
---
Past McLeskey Lecturers
2022
Jo Shapiro, MD, FACS
Fostering Psychological Safety: A Key Driver of Patient Safety and Clinician Wellbeing
2021
Alan Schwartz, PhD
Politics of Medical Education
2020
Grace Huang, MD
Make Writing a Habit in Your Academic Life
2019
Marjorie Podraza Stiegler, MD
Social Media and Digital Presence in Anesthesiology
2018
Daniel H. Lowenstein, MD
The Balancing Act: Finding Fulfillment, Contentment and Peace in the Busy World of Professional Life
2017
Wiley "Chip" Souba, MD, ScD, MBA
How Physician Educators Lead and Shape Healthcare Transformation

2016
Kevin B. Weiss, MD
Building the Pathway to Better Care through Improved Clinical Learning Environments

2015
David J. Murray, M.D.
The Role of Performance Assessments in Board Certification and Recertification

2014
Neil Mehta, MD, FACP
From Digital Badges to IBM Watson: Trends in Medical Education

2013
Catherine R. Lucey, MD
Medical Education: Part of the Problem and Part of the Solution

2012
Jim Scott, MD
Educating Residents in Healthcare Policy

2011
Richard Dutton, MD, MBA
Using Quality Data to Guide Education

2010
Jeanine P. Wiener-Kronish, MD
Training Anesthesiologists for the Next 30 Years

2009
Frank G. Opelka, MD, FACS
Health System Reform: Moving from Volume to a Value Base

2008
Steven L. Shafer, MD
The Future - How Should We Educate Our Residents for Medical Practice in 2020?

2007
Ronald D. Miller, MD [PDF of Lecture]
The Relationship between Anesthesia Educational Systems and Societal Opportunities and Needs

2006
Douglas R. Bacon, MD, MA
The Future of Academic Anesthesiology

2005
Michael F. Roizen, MD
Anesthesiology in 2025
Click here to donate to the McLeskey Lectureship.