From There To Here: Dr. Karen Souter, Previous SEA President
 "FROM THERE TO HERE"
MEMBERS INTERVIEW IN THE SEA
Dr. Karen Souter, Previous SEA President 
What made you join SEA?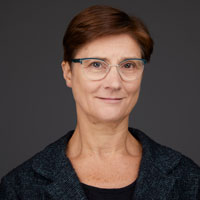 In 2002 I was new to the USA and academic medicine in the US. Even though I had a strong background in teaching and education I wanted to learn about how anesthesia education in the US worked. I wanted to find a group of people I could learn "the system" from, a place where I could find like-minded colleagues, identify mentors, and grow as an academic medical educator.
What are the skills you have that you contribute to this organization?
I think I am a good listener which is why I have recently transitioned into working as a coach, and added coaching skills to my academic mentoring.
I am someone who does the things I commit to, which has helped in all the projects I have become involved with, especially as a meeting chair and a workshop facilitator.
How long has it been since you joined SEA? 
I have been an active member of SEA since 2002 and have never missed a meeting!
How was your experience in SEA so far?
My membership and involvement in SEA has been the single most important contributor to my success as an academic educator, mentor and leader. I would not have achieved the things that helped defined my academic career (such as running one of the largest anesthesia residency programs in the US for 12 years, becoming the president of both AACPD and SEA, and receiving the ACGME Parker Palmer Courage to Teach award) without the support and mentorship of a whole generation of SEA members and leaders.
What do you have to say about this organization?
When I think about what SEA has to offer, I see this wonderful road map – or more correctly a series of hiking trails which can take you on many rich and varied paths to success as an academic educator. At this time SEA has 15 Committees and Task Forces which are accessible to anyone in the organization. I like to think of each committee as a "trailhead" for a remarkable and exciting academic journey. Whether your passion or interest is resident education, simulation, educational research or if you want to chair an academic meeting, there is a SEA committee to support you and a group of likeminded colleagues to collaborate with and sustain you on your journey to academic achievement. I love the comparison with hiking trails. So right on point! 
What do you think are the strengths of this organization?
Collaboration, opportunity and career growth. SEA is a place where there is support and mentorship, for any level of faculty or trainee to get involved and to contribute to the academic anesthesia education.
What do you think are the weaknesses of this organization?
I don't think of SEA as having weaknesses! I see room for growth in areas such as developing higher level educational offerings,  sponsoring more leaders in anesthesia education and leveraging the new online technology to further our mission.
What does a typical day look like working with this organization?
Energetic, collaborative, a day of growth and learning, fun and fulfilling. 
What is your position in SEA?
Currently coming to the end of my term as past-president- which will mark the end of a 15-year leadership journey.
How did you get to know about SEA?
I attended a breakfast panel at the ASA in the Fall of 2001.
Where do you see yourself in five years from now with respect to the organization?
Still actively attending meetings. Taking a step back from leadership. Hopefully supporting, coaching and mentoring newer members and contributing to workshops. 
How is the team work like in SEA?
Pretty amazing!
What opportunities exist for members here?
Many opportunities to explore a passion and/ or interest in a large variety of academic educational areas. This can enrich the career of a clinician educator, and help grow their promotion portfolio. This society fosters many opportunities for academic leadership.
How is the dynamic between the members of this group, especially during committee meetings?
Collaborative, supportive, and friendly.
Where do you see SEA in five years?
Continuing to thrive and make a difference in the anesthesia academic educational community.
Who would you encourage to join SEA and why?
Any academic faculty who have a teaching role. Because this is a group where you can get support, thrive, bring ideas and be heard.
What can you tell me about JEPM?
An incredible asset for the SEA! JEPM has expanded so much in the last few years and becoming PubMed indexed was huge!. It offers so much opportunity for SEA members to get recognition for their work when they publish in JEPM. It also promotes the academic growth and development for SEA members and also offers them opportunities to gain experience on the editorial side.
Share this post: